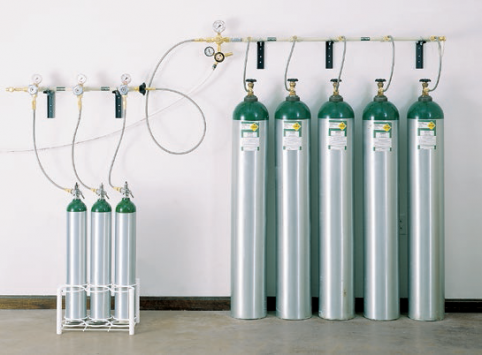 TS9 Transfill System Features:
• Cost effective filling of aluminum or steel cylinders up to 2000 psi.
• A wide range of system configurations available
• Available with or without the PK Transfill Accessory Kit
• Most systems may be expanded to meet future requirements
• Detailed Installation and Operation instructions
• Documentation for FDA Compliance included
Western Transfill Systems are designed and manufactured to be a safe, cost effective means of transfilling medical oxygen. A typical system consists of a header for  the supply cylinders, a regulator for controlling the fill pressure, a vacuum regulator for the evacuation of the fill cylinders, and a fill header which includes gauges,  flow control orifices, and valves for each cylinder being filled. The systems are also designed to allow for expansion to meet future requirements. A vacuum pump
and an oxygen analyzer may be purchased separately or as part of the PK Kit option in order to meet FDA regulations.
The transfer of gas from one cylinder to another must be carried out under carefully controlled conditions are requires appropriate equipment and properly trained and qualified personnel. Oxygen used for medical purposes is considered a drug by the FDA and requires the application of FDA regulations. Department of  Transportation (DOT), Occupational Safety and Health Admin. (OSHA) and other regulations may also apply.
How to Configure and Order a TS9 Transfill System
1. Determine the number of cylinders desired to supply the system. ("Supply Cylinders")
2. Determine the number of cylinders to be filled at any one time. ("Fill Cylinders")
3. Determine if the TS9-PK Transfill Accessories Kit is needed. Add PK if needed.

TS9-5-3PK
The TS9-5-3PK is a complete starter system designed for transfilling 3 cylinders at a time from a supply
bank of 5 large cylinders. This system includes:

Other common configurations available include:



| Product Image | PART # | Description | Price | |
| --- | --- | --- | --- | --- |
| | TS9-5-3PK | Oxygen Transfill System, 3 cylinders at a time from a supply bank of 5 large cylinders | Price Inquiry | |
| | TS9-3-1 | Oxygen Transfill System, 3 cylinder Supply to 1 cylinder Fill | Price Inquiry | |
| | TS9-4-1 | Oxygen Transfill System, 4 cylinder Supply to 1 cylinder Fill | Price Inquiry | |
| | TS9-5-1 | Oxygen Transfill System, 5 cylinder Supply to 1 cylinder Fill | Price Inquiry | |
| | TS9-4-2 | Oxygen Transfill System, 4 cylinder Supply to 2 cylinder Fill | Price Inquiry | |
| | TS9-5-2 | Oxygen Transfill System, 5 cylinder Supply to 2 cylinder Fill | Price Inquiry | |
| | TS9-6-2 | Oxygen Transfill System, 6 cylinder Supply to 2 cylinder Fill | Price Inquiry | |
| | TS9-10-12PK | Oxygen Transfill System, Transfilling 12 cylinders at a time from a supply bank of 10 large cylinders. | Price Inquiry | |